Pop Money
---
Easy money transfers at your fingertips. 
Send or Receive Money Anytime
---
These days you can use your phone to do just about anything – and that includes transferring money. With Popmoney, you can send, request, and receive money to or from just about anyone with CRCU online banking or mobile banking. To send or request money, all you need is your recipient's email address or mobile number. You don't have to share account numbers, and the money moves directly from one financial account to another, so your account information stays private.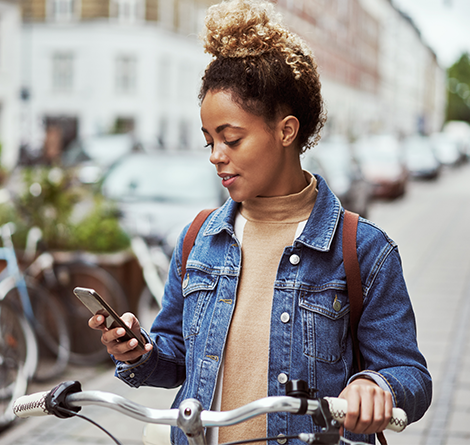 Use Popmoney to:
Cover shared expenses

Reimburse friends and family

Send money as a gift or allowance

Pay for services like babysitting
Make a Popmoney Transfer
---
Log into CRCU online or mobile banking and go to "Move Money," then "External Transfers" to get started.
What is Popmoney?
---
This digital payment service makes sending money as easy as emailing or texting. You don't need a new account or have to share your account information. Simply log into CRCU Online Banking or Mobile Banking to use it.
Setup
Popmoney is only for use by adults age 18 and over and for personal accounts, not business accounts. Before you start using the Popmoney app, you'll need to verify your email address and phone number for security reasons. You can use more than one email address or phone number in Popmoney, which gives you greater flexibility. Keep in mind that any email address you use cannot be used to register anyone else for Popmoney.
Sending Money

Log into CRCU online banking or mobile banking and go to "Move Money" and then "External Transfers" to use Popmoney. Enter a recipient's email address, mobile number, or financial account information – then initiate a payment. Popmoney will then contact your recipient with instructions about how to direct your payment into his or her account – or the payment will be directly deposited if you enter the recipient's financial account information. If your recipient has already used Popmoney and turned on automatic deposit, the transfer typically takes 2 – 3 business days unless you choose express delivery before 10 a.m. Pacific Time for next-day transfers of funds. For your protection, Popmoney places limits on how much money you can send and how often. You'll find these limits next to the "amounts" field within Popmoney.
If you need to cancel a one-time or recurring payment, you can do so on or before the send date. In Popmoney "Activity," you can also attempt to initiate a stop payment after the send date, provided the payment has not yet deposited.
Sending money through Popmoney is fast, secure, and affordable. View the Popmoney fee schedule by clicking "Fees" in "Send Money."
Receiving Money
If someone sends you money in Popmoney, you will receive a notification and be able to see the payment in "Incoming Payments." (If you do not see a payment you are expecting, visit "Preferences" to add and verify your email address and phone number.) In "Activity" you'll see when your payment funds will be available.
If you have turned on Automatic Deposit, there's nothing more you need to do. Otherwise, be sure to deposit the money through Popmoney within 10 days of receiving the payment. With Automatic Deposit, you designate one account for all deposits so that all incoming payments complete automatically. To use it, turn on Automatic Deposit and ensure your contact information is set up in your preferences.
Please keep in mind if you receive a payment and the sender used an incorrect phone number, the transfer will not complete. Be sure to provide your correct contact information to people paying you through Popmoney
Want to learn more?
Visit here or go to popmoney.com for complete details.
Moving money between your CRCU accounts, such as a savings account and checking account, gives you the flexibility you need to achieve your financial goals. A balance transfer between your CRCU accounts is fast, secure, and immediate.
*
Messaging and data rates may apply. See your carrier for details.