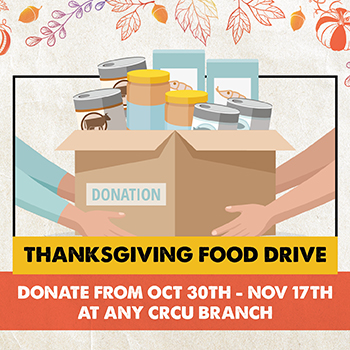 October 30th - November 17th 
All CRCU Branches
Please drop off your non-perishable items at any CRCU branch in our collection boxes. Your contribution will help support local schools and organizations. 
Get Involved In Your Community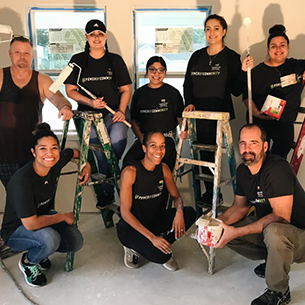 Baytown Habitat for Humanity

7:45 am | 1508 7th St., Baytown, TX 77521
Please note: There is a short safety meeting with a review
of worksite and safety precautions. No one under the age
of 16 is allowed on the building site property. No one under
the age of 18 is allowed to use power tools at the building site. 
Interested in becoming a volunteer? 
Visit http://baytownhabitat.org/ to learn more! 
Upcoming FREE Community Shred Days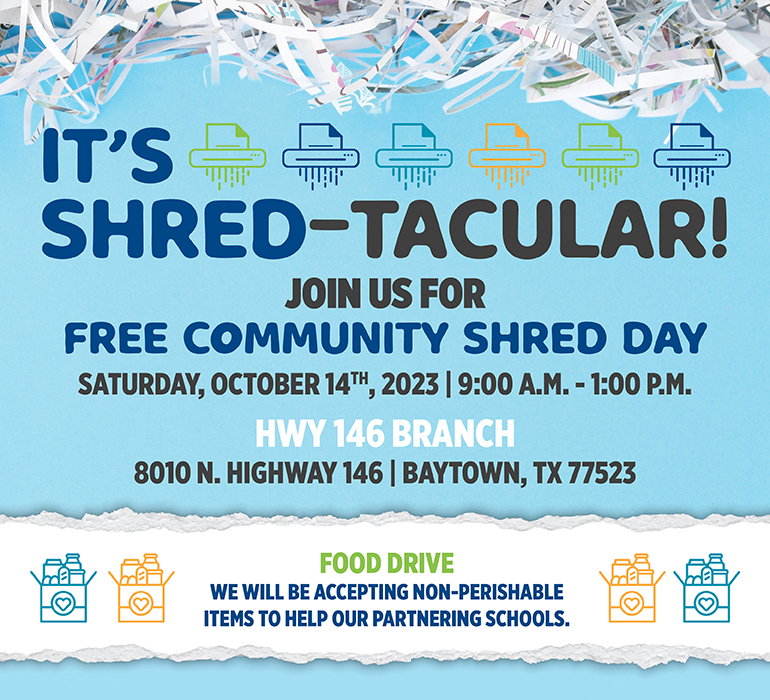 Free Community Shred Day and Food Drive 
Saturday, October 14th
9:00 A.M. - 1:00 P.M.
HWY 146 Branch
8010 N. Highway Baytown, TX 77523
Please DO NOT bring the following materials: photographs, plastic binders, diskettes, computer tapes, plastic transparencies, micro-fiche, film, tapes, magazines or, newspapers. CRCU requests that you limit your shred items to 6 legal/letter size boxes. 

Join the CRCU Family!
When you join Community Resource Credit Union, you're doing more than finding a financial partner: You're becoming an owner. 
Together, we make our community stronger.