Rewards Business Mastercard®
---
Keep you charging forward with your business. 
---
It's one of the most essential financial tools for business – and CRCU knows how to make it great. Our business credit card doesn't just offer competitive rates and worldwide access. It also rewards you for every purchase.
Earn 1.5 points** for every $1 spent

Redeem rewards for cash back, gift cards, merchandise, and more

No annual fee

Worldwide acceptance for global purchase power
Competitive rates

Travel assistance with rental car insurance, extended warranty, and more

No penalty interest rates for cash advances or balance transfers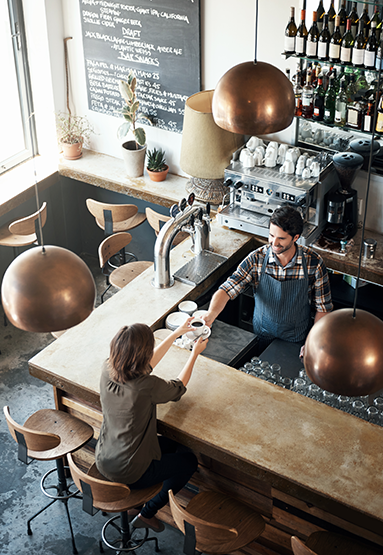 Mastercard® Global Service™
Mastercard® Global Service provides worldwide, 24-hour assistance with Lost and Stolen Card Reporting, Emergency Card Replacement and Emergency Cash Advance.
For an emergency within the United States call 1-800-MasterCard
(1-800-627-8372).
How to get yours
---
Download and complete our application and email it to our business services experts – Nancy.Pritchett@crcu.org or Laura.Kunefke@crcu.org.
A representative will contact you soon!
Please note that to process your application, we will initialize a credit pull on all applicants and will require:
1. Personal Financial Statement 
2. 3 years of personal tax returns 
3. 3 years of business tax returns 
4. 3 years of business financials 

Flexible, Easy Access to Your Funds
---
Access your funds at the ATM or In-Person
Over 30,000 fee-free ATMs in the across the US, plus 5,000+ shared branch locations nationwide.
Have questions? We can help.
---
Call one of our business services experts at 281.422.3611.
Frequently Asked Questions
How do you calculate my balance?
We use a method called "average daily balance."
How do I redeem my rewards credit card points?
You can redeem via statement credit, merchandise, or gift cards by logging into Online Banking and clicking "credit card." 
Can I add an authorized user onto my business credit card?
Yes, you would need to come into any CRCU branch and fill out an authorized user form.
How can I pay my credit card?
You can use our mobile app, online banking, call our call center, or set up an automatic payment.
How do I avoid paying interest on purchases?
Your due date is at least 21 days after the close of each billing cycle. We will not charge interest on purchases if you pay the entire balance by the due date each month.