Get home buying right the first time
Buying your first home is a big decision. CRCU is here to help. Our team of mortgage experts will guide you through the first-time homebuying process, ensuring you have an easy, worry-free experience. Best of all, you won't have to make a big down payment.
A down payment as little as 3%

Down payment may be 100% gifted



A credit score of at least 620

30-year fixed term available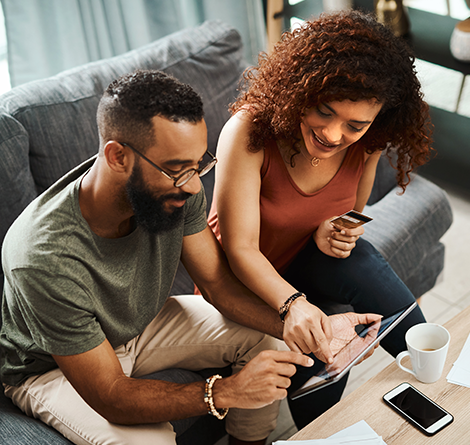 Crunch the Numbers
The best way to start your home buying process is by determining your budget. And who wants to fall in love with something that's unattainable? Visit our Mortgage calculators to find out which price range works best, so you can start looking for the home of your dreams. 
Step 1: 
Mortgage Loan Pre-Approval
The first step is easy.   Begin the process in person with a CRCU Mortgage Loan Officer, contact us by telephone, or start your application online. In just minutes, we can help you make an informed purchase and financing decision.
Find out how much you can borrow

Determine how much down payment is necessary

Understand credit requirements
Step 2:
Apply for the Loan
The mortgage application asks for detailed information about you, a co-applicant (if applicable) and the property you wish to buy.
Applicant Information:  Your name, address, and other pertinent information.
Property Information:  The basics about the property you want to finance.
Employment:  Your income and employment history for at least the previous two years.
Assets:  All checking and savings, retirement, gifts from family, stocks, bonds, or any other assets.
Personal Debt: Your monthly debt breakdown. We'll review information from three credit bureau's to confirm liabilities and can help you complete that section of the application.
Step 3:
Credit Approval
Very often we can give you a quick credit approval of your loan.  You'll be approved for a precise loan amount based on your income and debts.  However, the approval is legally subject to underwriting the property you are financing and verification of the information you've provided on your application.
Step 4:
Processing Your Mortgage Loan Application
We will request documentation to verify assets and income.  The property will be reviewed by ordering a title report, appraisal, flood certification and other required items on the home.  We also establish an escrow account, and send out applicable disclosures so you have a chance to read through them.
Step 5:
Final Loan Approval
Final approval of your mortgage loan involves the underwriting of the property and loan application information. We will underwrite the information received and give final approval to prepare the loan for closing.
Step 6: 
Loan Closing
With final loan approval, we prepare the loan documents for both you and the title company to sign. Once we receive the signed documents, we'll transfer the money to the title company and they will disburse the loan and record the documents.
Mortgage Pre-Approval Checklist
Mortgage pre-approval provides an estimate of the amount you may be able to borrow and an assessment whether your debt-to-income ratio fits mortgage guidelines.  You can also request a pre-approval letter, which you can give to your real estate agent to show you are a serious home buyer.
Residential History
Your residential address for the past two years

Landlord names and addresses for the last two years, if you rented during that time
Employment & Income History
Paycheck stubs from the last 30 days showing your year-to-date earnings

W-2 or I-9 tax forms (issued by your employer) for the past two years

Additional documents may be necessary based on your individual circumstances
Personal Assets
Account statements from the two most recent months for all checking and savings accounts

Other asset statements from the past two months for any CDs, IRAs, stocks, bonds or other securities 

Current real estate holdings, including property address, current market value, mortgage lender's name and address, loan account number, balance and monthly payment
Personal Debt
A list of any new monthly debts not listed on your credit report (auto loans, student loans, mortgage loans, credit cards, etc.), including creditor name, address, account number, minimum monthly payment amount and outstanding balance on each account
Source of down payment, if applicable




2 months consecutive bank statements

Name and contact info of desired homeowner's insurance agency
Additional documents may be required at your mortgage closing. Your real estate agent and CRCU Mortgage Loan Officer will let you know which documents will be needed when you close on your new home and they'll work closely with you at each step of the mortgage process.
A credit score helps lenders determine their risk in lending you money. Your history of paying bills on time and your monthly debts determine your credit score, which can range from 300 (worst) to 850 (best).
There are three national credit bureaus (Equifax, Experian and TransUnion) that maintain credit reports. Usually, the three scores are similar, but they may differ based on the different information collected by each credit bureau.
Your Credit Report
Debts such as credit cards, auto loans, student and personal loans automatically show up in your credit reports.  You can get one free copy of your credit reports from each credit bureau every 12 months via annualcreditreport.com.
Maintaining Your Credit Score
Paying your bills on time as a matter of habit is the best way to ensure your credit remains healthy. Many creditors report after 30 days past due, while others wait as long as 90 days.
What to Consider When Shopping for a Home
How much house do you need?

Neighborhood/schools

Number of bedrooms/bathrooms

Style of home

How much maintenance will the home require/cost?

What will impact the resell of particular home positively or negatively?
DO'S
Talk to your experienced credit union loan officer

About mortgage options

Credit repair or paying down debt

Before making any changes that may impact your approval

Gather all required documentation in a timely manner, including trailing conditions

Ensure down payments are seasoned for at least 60 days, unless gifted

Make sure your real estate agent sets contract dates that are reasonable to meet to protect your earnest money
DON'TS
Withdraw large amounts from your asset account without talking to your loan officer
Deposit large amounts of money (or be prepared to source them)
Make any major purchases using credit cards
Open any additional credit
Make changes to employment during application/home buying process without advising your loan officer
Begin your journey to homeownership & Get Pre-Approved
Get started today by applying online or calling 800.238.3228. If you still have questions, schedule an appointment with one of our mortgage specialists.
Your annual percentage rate will be dependent upon total loan amount, term chosen, and individual financial circumstances.  Rates based on an evaluation of each member's credit history, loan-to-value (LTV), loan amount, loan purpose, and other factors; so your rate and terms may differ. All loans are subject to credit approval. Under certain circumstances an escrow account for taxes and insurance may be required. Does not include taxes and insurance. Some restrictions may apply. Offer subject to change or cancellation without notice. CRCU membership required. Individual loan circumstances vary and actual funding may exceed stated timeframe.