Alerts & Notifications
---
Keeping You Informed
Receive a customized heads-up whenever there is activity on your accounts.
---
Stay on top of your accounts with alerts and notifications
Monitor your accounts 24/7 by creating customized text and email alerts. These texts and/or alerts can be customized based on balances, approvals, transactions and more. You can also have alerts sent to multiple phone numbers and email addresses. Text Alerts is a free service for our members (*carrier data and message rates may apply)
Be notified of suspicious activity

Customize the settings to receive low-balance alerts

Checking clearing 




Loan Payments

CD Maturity Date
See when deposits have cleared

Stay on top of your debit or credit card limits

Weekly balance update




Payment notifications and more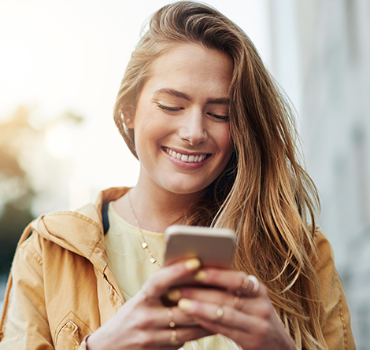 Text Alerts
Stay connected with credit card alerts! Anytime. Anywhere.
FREE Mobile Access
Securely manage your credit card from the convenience of your mobile device! Our mobile site offers a streamlined version of GoToMyCard.com. It features many key card management functions, such as current balance, payment due, and recent activity. Visit www.GoToMyCard.com on your mobile device today.
FREE Interactive Texting*
Receive balance, transaction history, payment due date and more instantly! 

Enroll today at  www.GoToMyCard.com. 
Select "Products and Services" from the top menu bar and
Then choose "Interactive Texting" from the list of available options.
Follow the prompts to complete your enrollment.
Once enrolled, send a text message inquiry (SMS) to 84164 and receive instant account access.
BAL: Receive balance and available credit
ACT: Receive 5 most recent transactions; MORE for the next set of 5
DUE: Receive payment due date and minimum amount due and the last payment date/amount information
LOST: Retrieve customer service phone number to report card lost or stolen
COMMAND: List of available commands
HELP: Reference to www.GoToMyCard.com for help
STOP: Un-enroll from service
*Standard text messaging fees apply.
Notifications
---
Free E-mail Account Notifications
CRCU will notify you whenever certain activity occurs or send you reminders of specific events based on parameters that you set yourself - sent directly to your inbox! Enroll today and choose from 9 alerts that you can receive via e-mail.   
Types of Account Notifications:

Accounts
Activity
Reminders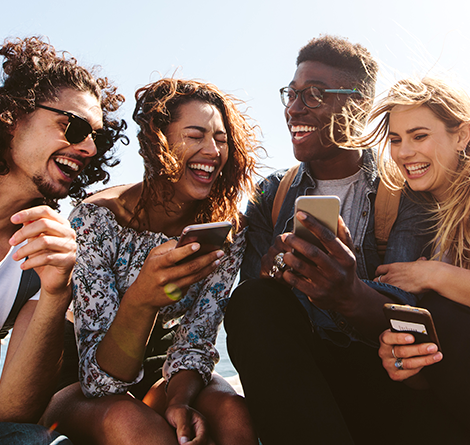 Become a CRCU Member
Join our happy family today! Applying for membership couldn't be easier.
A wide field of membership - see if you qualify!

Complete your application online with ease

Access to exclusive benefits and discounts from Love My Credit Union Rewards
HOW TO
---
How to Set up Mobile Alerts
Sign in to the mobile app.*

Tap More on the bottom, then Settings.
Select the option Push Notifications.
For Account notifications, toggle on & off which options you like like to be notified about.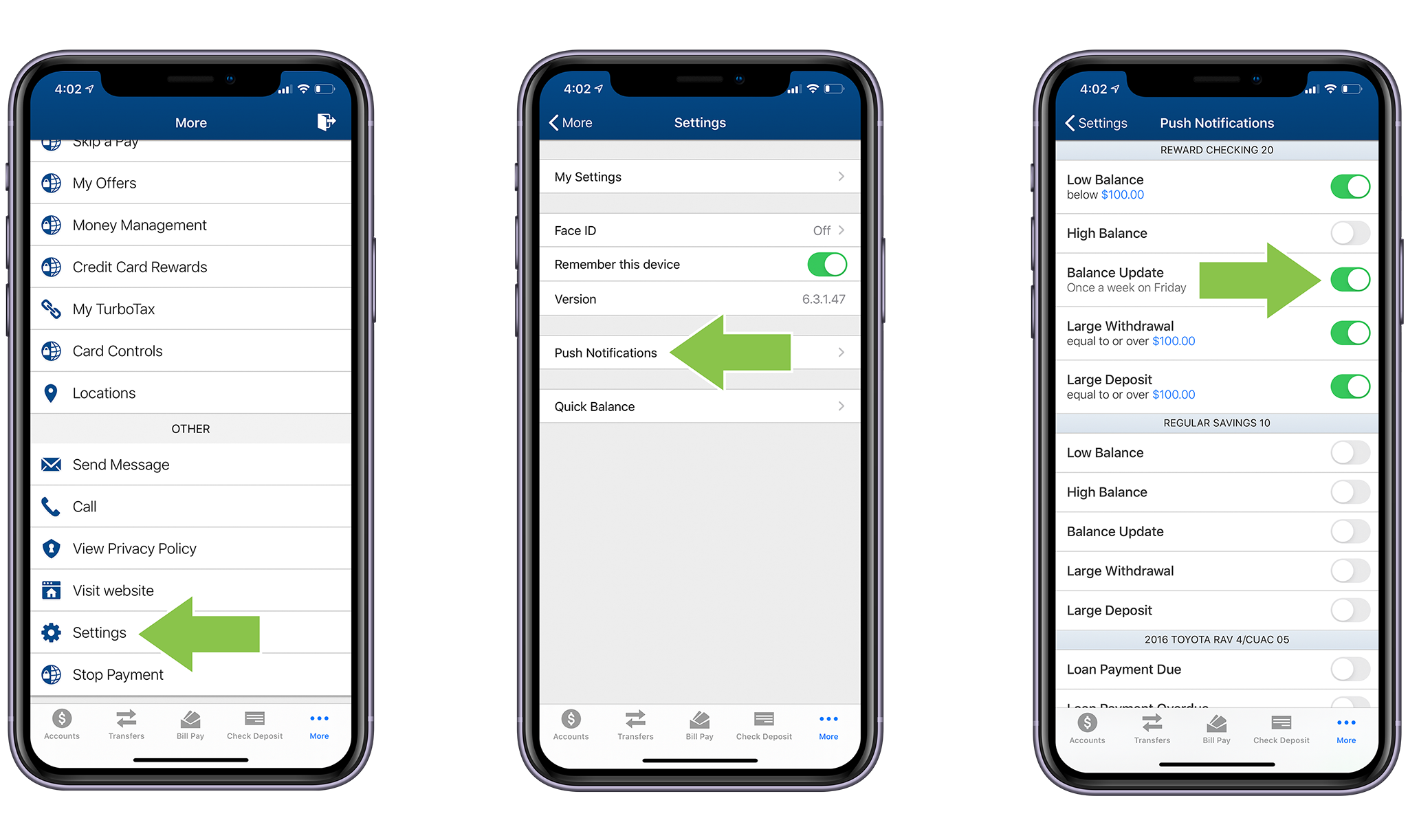 How to Set up Online Alerts
Sign in to your account.
Hover over on

 

Additional Services in the main navigation, then Alerts & Notifications.

Choose how you want us to notify you & which accounts you would like to set alerts & notifications for, by checking the the boxes. Confirm you have your updated email address entered & you're all done.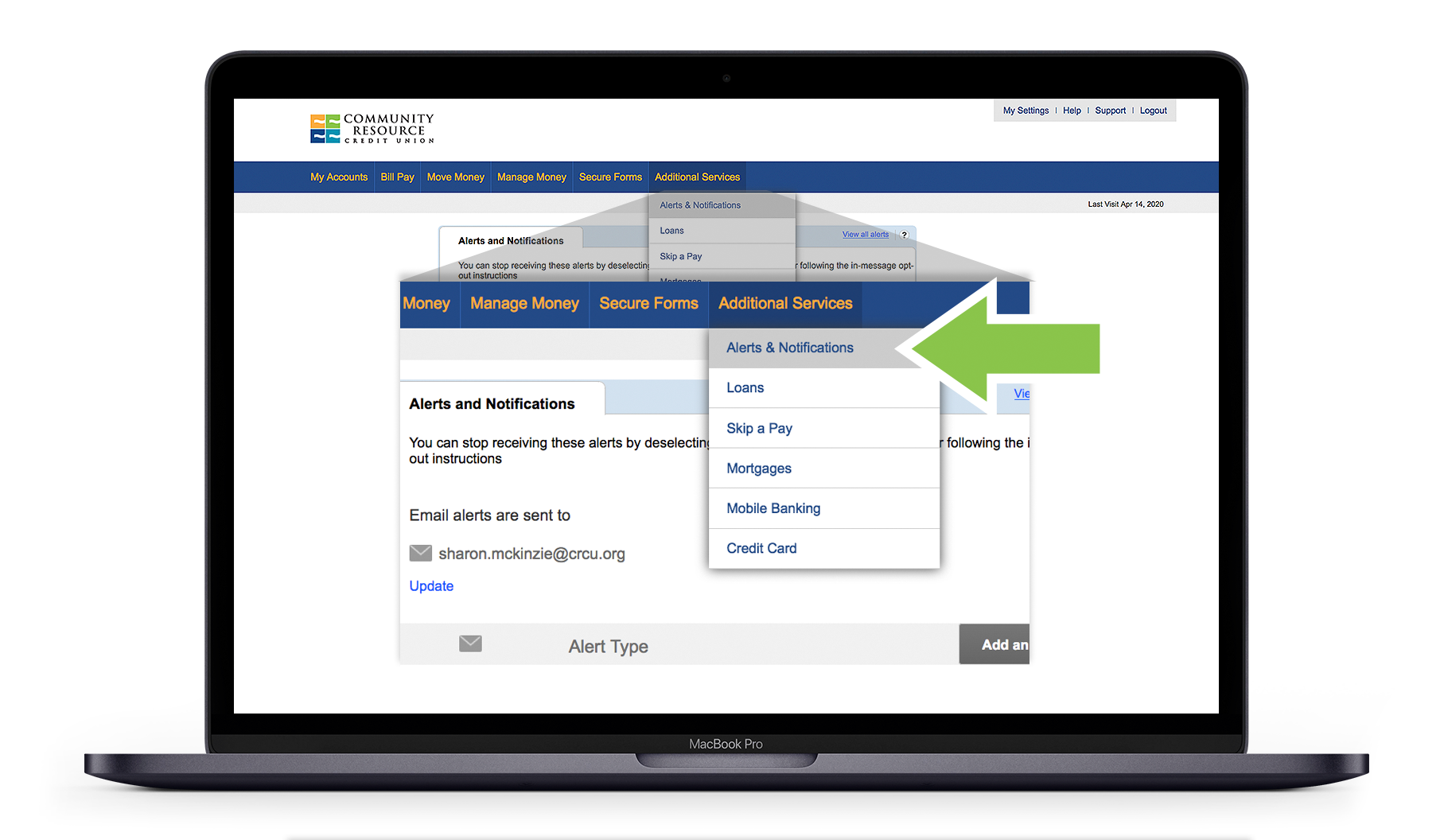 Have Questions?
---
If you have any questions about alerts or notifications, please contact us (800) 238-3228 or in person at your neighborhood CRCU branch!