Card Controls
---
Control the cards in your wallet with the phone in your pocket.

Taking control of your CRCU debit cards is easy with Card Controls, a free security solution that enables superior control of your CRCU debit cards through Mobile Banking and Online Banking. This free feature offers:
Protect yourself from fraud
24/7 control right at your fingertips

Turn cards off and on remotely and for as long as you want




Prevent fraud if your card is lost or stolen




Block international or out-of-area transactions

Near real-time transaction alerts

Review your transaction history

Get real-time alerts with push notifications about transactions

Add a nickname to your debit card

See card image

 
Control spending
 

Set spending limits overall or by type of merchant

Review balances and transactions




Control spending by setting limits on withdrawals or transactions

Set your dollar amounts for spending

Customize spending ability by online, mobile or in-store purchases

Customize geographic limits for card use

Set "Do Not Disturb" settings to your debit card

The Power to turn your debit card ON & OFF
---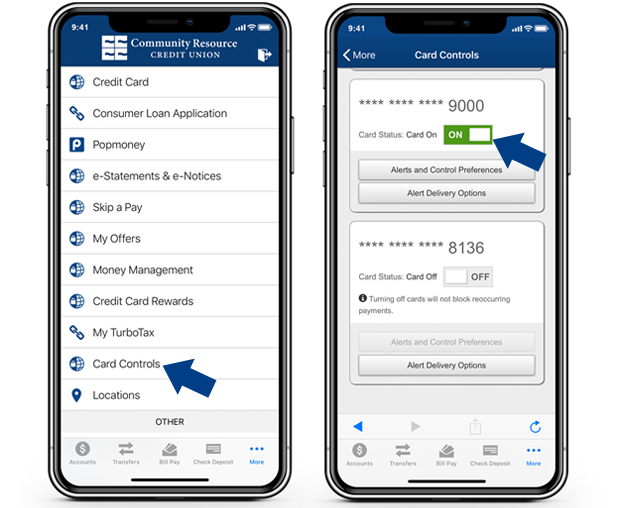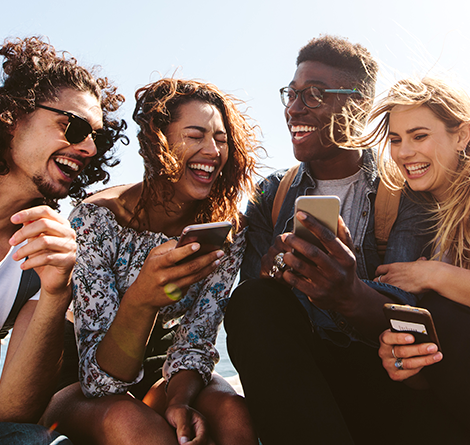 Access Card Control through the CRCU Mobile Banking App today.
---
Download the app 'Community Resource Credit Union'

Open the app and register using your online banking ID and password.

 

What is CRCU Card Controls?
Card Controls technology enables superior control, security, and financial visibility via your mobile phone and online banking. It lets you manage your debit cards on-the-go. You control when and where your debit cards can be used, as well as view and act on instant alerts when transactions are processed.
What are the benefits of Card Controls?
Turn your cards on and off

Block international transactions

Set spending limits

Set alerts by merchant type

Receive real time alerts

Prevent fraud
No need to sign up! Once you are enrolled in online banking you will automatically have access to this service and you will be able to set your preferences for alerts and controls for each registered debit card and manage it on your CRCU online banking or mobile app.

What cards can I manage? Is there a fee for this service?
You can manage all your CRCU debit cardson each account. There is no fee to use CRCU Card Controls service.

Whom do I contact for Card Controls Support?
Please contact your credit union directly with any support questions. For support needs call 1-844-453-2412 or 1-800-238-3228
Do I need to have a mobile device to use Card Controls?
No, you can still utilize Card Controls by logging into CRCU online banking.

I have a card on a different account, why don't I see that card when selecting card controls?
Only cards on the specific account logged into are displayed. In order to see other cards on additional accounts, you must log in using the username and password for each specific account.

How long can I leave a card "off"?
You can turn your cards off, leave them off as long as you want to, and only turn them back on when you want to perform transactions.

When will I be able to stop or set alerts for my new debit card?
Your card will be displayed in your online banking and mobile banking card controls on the next business day from the date it was issued and you will be able to manage alerts and controls.

Will Card Controls work outside the U.S.?
Yes. If your phone works, the app will work if you have internet.

How do I setup controls & alerts? (Online Banking + CRCU Mobile App)
Card Controls enables you to set controls and alerts to limit fraud. These are set, and can vary based on spending preferences.
Online Banking – Log into online banking, click "Additional Services", "Card Alerts and Control", "Alerts and Control Preferences".

CRCU Mobile App – Login into the CRCU Mobile App, click more and select card control. (may vary depending on device)

What if I have my card turned off and a recurring bill wants to charge my card? Will that transaction be denied?
No, turning off cards will not block recurring payments. When the card is off, real time transactions are blocked by Card Controls and alerts are generated. Auto-pay transactions and credits (deposits, returns, and reversals) are exempt from this high-level control.

Can I receive push notifications?
Yes. You can receive push notifications through the CRCU app. You do not need to be logged in.

What do I do if I receive an alert for a transaction I do not recognize?
Report any transactions immediately to the number on the back of the card, 1-844-453-2412.

Why did the transaction clear or post for an amount higher than the amount authorized?
The merchant receives an authorization for the transaction, but gas, restaurants, hotels, car rentals, etc. can settle for up to 15% higher than the amount authorized to include tips. The merchant is not required to request a second approval.

For gas transactions: the merchant will authorize the initial transaction for different amounts ranging from $1 to $100 (in many cases, higher amounts). The hold expires 1 minute later and the transaction will clear for the actual amount, not the authorized amount.

Why is there a delay in receiving my card alerts?
Alerts are sent immediately after a transaction comes through most of time. Occasionally there may be a push notification delay in delivery by google or apple or if there is a delay in the system processing the alert.

Will the credit union continue to monitor my card for out-of-pattern activity?
Absolutely, these controls are in addition to the current fraud detection measures we have in place.

Why did I receive an alert of a purchase that was made internationally when I have not traveled outside the United States?
Sometimes merchants that advertise over the internet, by mail, or by phone are located outside the United States. These transactions originate from an International location even though the cardholder did not leave the States.

If I have more than one share linked to my account will I received alerts for activity on all shares linked to that card? 
Yes, you will receive alerts for transaction activity performed with your debit card.

Will I receive alerts for debit card transactions processed by the joint account holder?
Only if you choose to receive those alerts. Alerts and delivery methods are set per card individually.

If my card number changes, will I need to reregister and set alert preferences for the new card?
Yes, alerts will need to be reset for the new card.