RV Loans
---
Get out on the road this fall with an RV loan from CRCU – rates as low as 3.74% APR!*
Finance Your Freedom & Adventure
---
Now that you've heard the call of the open road, come to CRCU to get an RV or travel trailer loan that won't hold you back!  We have great rates and terms for new and used RV's. Our simple loan process gets you on the road faster, and we can also refinance your RV loan from another lender.
Quick decisions
Low Payments:  Terms up to 15 years available on new

New, Used or Refinance:  Found a great deal from a dealer or individual?  We can help!

 
Get pre-approved before you visit the dealership
Save Money:  No prepayment penalty, no application fee

 

Loans for person-to-person sales also available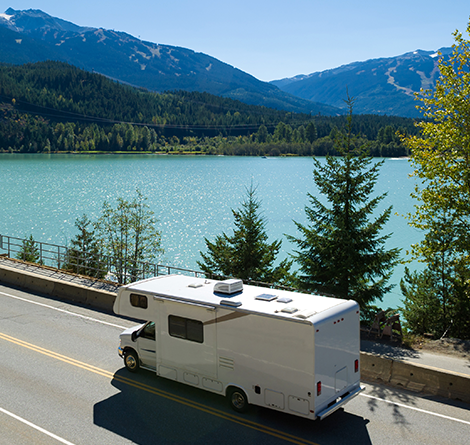 Protect your RV for the long haul with insurance options at lower costs than you'll find at most dealerships.
| | | | | | |
| --- | --- | --- | --- | --- | --- |
| Loan Type  | | 49 -72  | 73 - 84 Months | 85 - 144 Months | 145 - 180 Months |
| New RVsa | 3.74% | 4.74% | 6.24% | 6.74% | 7.24% |
| Used RVsa | 4.49% | 5.49% | 6.99% | 7.49% | n/a |
*APR = Annual Percentage Rate. aCertain terms, conditions, and or discounts apply to rates listed. Minimum finance amount varies per loan type.  Rates current as of 01/03/2023 and are subject to change based on market conditions and borrower eligibility. 

Payment example: a $30,000 loan with a 48-month term at 3.74% APR = $674.78 monthly payment.

 Your monthly payment includes principal and interest and may be higher or lower depending on your loan amount, APR and term. Other rates and terms available. May not be combined with other offers. All loans and rates are subject to approval and some restrictions may apply. Subject to mileage and vehicle age limitations. A vehicle is considered new when not previously titled. CRCU finances up to 110 % of MSRP (new vehicles) or the NADA Retail value (used vehicles). Maximum loan to value (LTV) is 110% including tax, license and fees. Maximum LTV is subject to approval and certain restrictions may apply. Not available to refinance an existing CRCU vehicle loan. The minimum approved loan amount is $500.00. Offer subject to change or cancellation without notice. 
View rates page to view all disclosure & rates. CRCU Membership required. Contact us for details. 

Know Before You Go
Get Pre-Approved!
get approved in minutes!
It's quick and easy. We'll even provide you with a pre-approval certificate.
Need Assistance?
For personal help with your loan application, drop by your neighborhood CRCU branch or give us a call at (800) 238-3228.