Skip A Pay
---
Need a break? We've got you covered.
With Skip-A-Payment, we'll let you take a vacation from your loan payment when you need it most.
---
Community Resource Credit Union offers qualifying members the opportunity to skip a loan payment for qualifying loans.
Have you taken advantage of your opportunity to skip your loan payment lately? All eligible members are able to skip their CRCU loan payments up to two times a year!
How Does It Work
If you take advantage of Skip-A-Pay, you are adding additional payment(s) to the end of your loan(s) which could extend the term or maturity. Keep in mind it will still be accruing daily interest at the determined rate, and if your next payment does not cover the interest accrued, it will be taken out of each payment until satisfied. Skipped payments are processed for a period of one month at a time. (Ex: Two biweekly, two semi-monthly, or four weekly.)
See If You Qualify
We encourage financial responsibility, so your loan needs to be in good standing to use Skip-A-Payment. Ensure you meet the following criteria:
I have made the last three months payments and am not delinquent on my loan

I have not done more than 2 skip-a-pays in the current calendar year on my loan

My loan has been opened for a minimum of 6 months

I am enrolled and can access my online banking

Skip-A-Payment Exclusions
The following loans are not eligible for Skip-A-Payment:
• Qwik Loans
• Mortgage Loans
• Credit Cards
• Visa/MasterCard Repays
• Holiday Express Loans
• EZ Express Loans
• Business Types of Loans
When you're ready to get started, log in to online banking and click Skip-A-Pay under the Services tab.
Enroll through Online Banking
From the CRCU Mobile App:
1) Log into your account
2) Select "Skip-A-Pay" from the options menu
a) For Android users, it will be located on the left side
b) For iPhone users, it will be located on the bottom
3) Select loan and month to be skipped and agree to the terms/conditions
4) Click "continue" to complete process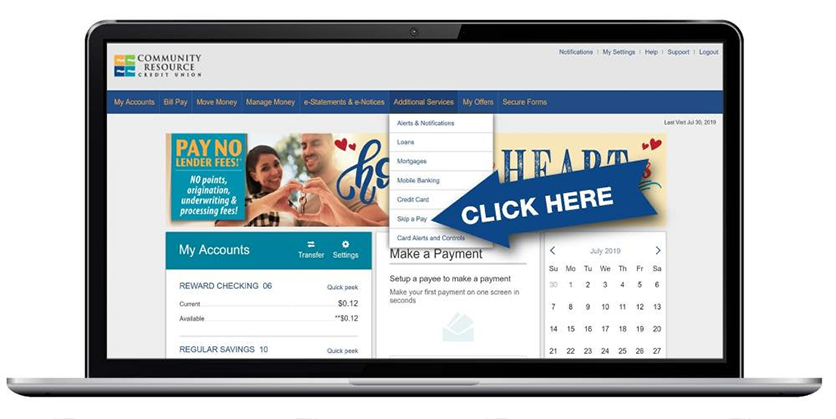 From Home Banking:
1) Go to Home Banking and login              
2) Select "Additional Services" from the top
3) Then select Skip-A-Pay
4) Your list of eligible loans will appear
5) Select the loan and month you wish to skip and agree to the terms/conditions
6) Click "continue" to complete the process

Terms and Conditions
• Interest will continue to accrue on my outstanding balance during this time and term of my loan(s) may be extended each time a Skip-A-Pay is approved. 
• For payments I generate (for example, payments set up with a bill pay service, payments initiated at another financial institution, etc.) I am responsible for stopping the payment for the month I wish to skip. Any automatic transfers generated by CRCU will be suspended for the month the payment is skipped if the request is received two (2) business day prior to the due date.
• If I have any form of voluntary insurance or warranty coverage (examples include but are not limited to: Credit Life, Credit Disability, Guaranteed Asset protection (GAP), and Vehicle Warranty) in connection with the loan (s)
on which I elect to skip, such coverage may be impacted by the skip. I understand I must contact the third party company through which the product(s) is/are offered to ensure the Skip-A-Pay will not affect my coverage. 
• Payments will be made in the regularly scheduled amount every month until I have paid all of the principal and interest and any other charges I may own under the Loan Agreement.
• A processing fee of $0 per loan is due and payable each time a skip a pay is permitted. I authorize the credit union to debit my savings or checking account for the associated fee(s).
• The Skip-A-Pay program is not available on Qwik loans (line of credit), Credit Cards, Home Equity, Real Estate, Holiday Express, EZ Express, and Business Loans.    
• Skip-A-Pays will not be permitted on any loan more than two (2) times in any period of twelve (12) consecutive months.  After the first Skip-A-Pay a waiting period of 90 days will be required before the second Skip-A-Pay is granted.
• Loans must be opened for a minimum of 180 days, not past due, and with a minimum of 6 payments made. 
• The credit union reserves the right to revoke this offer if any of my accounts are in default, or if I fail to meet any other conditions or criteria of this offer as specified herein
• All Skip-a-Payment requests are subject to approval.