Start your off-road adventure on the right track with low-rate ATV financing from Community Resource Credit Union.
---
If you have always fantasized about cruising the dusty pathways on an ATV or mudding through the woods, then why not make that dream a reality? CRCU offers low, fixed ATV loan rates, so you can hit the trails without breaking the bank.
Low Payments:  Terms up to 84 months available on new
Save Money:  No prepayment penalty, no application fee
Great Rates:  Rates starting as low as 7.74% APR*
New, Used or Refinance:  Found a great deal from a dealer or individual?  We can help!
What to know
---
Requires full coverage insurance with deductibles not to exceed $1,005

Credit Life/Disability Insurance is available for your loan
Available GAP Insurance helps pay off your remaining loan balance if your auto is stolen or damaged and is deemed to be a total loss

Complete an application and electronically sign the document using a secure and intuitive online process. Please be aware that this process may verify your identity by asking a series of random "out-of-wallet" questions, which may be created from public record and credit databases.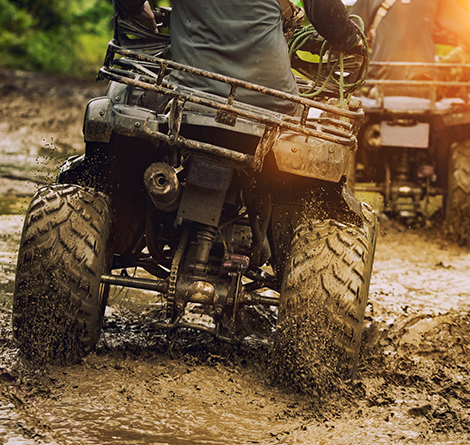 ATV or Recreational Insurance is needed for anyone owning a camper, RV or other recreational vehicle. It serves as your financial shelter in the event you suffer loss due to a road accident or if you must compensate the victim of an accident.
Benefits of ATV Insurance
By state law, you could be fined for not having proof of insurance

Covers injury and property damage for you and the third party if needed

Peace of mind for your investment
To start protecting your investment today, get a free quote online or contact CRCU more information.
Before you apply, be sure to gather the following:
Employment information (including employer name and contact information)

Proof of income (pay check stub or W2)

If available, information about the vehicle (make, model, year, and VIN) or collateral



Prior to loan closing, be sure to:

Contact your insurance agent to add new lien information and retrieve a binder

Insurance binder should list CRCU as lienholder and have our PO Box address

Sign your loan documents in person – or electronically with our online application



Start your adventure today
For personal help with your loan application, drop by your neighborhood CRCU branch or give us a call at (800) 238-3228.

Know Before You Go
Get Pre-Approved!
get approved in minutes!
It's quick and easy. We'll even provide you with a pre-approval certificate.
Frequently Asked Questions
How many months can I finance an ATV loan?
We offer different types of terms. Please see our rate table for additional information.
Can I apply for a loan if I haven't found an ATV yet?
Yes.  Always get a preapproval before going shopping. 
What is the maximum age of an ATV I can finance?
Typically, we do not finance collateral older than seven years.
Do you offer credit life and disability insurance on ATV loans?
Yes. Your loan can be fully protected in case of an unexpected loss of income.
What is electronic title?
Electronic title or e-title is a digital record of ownership of a vehicle. No physical title is printed.