Get Started on Your Home Improvement Projects!

---
                                                                                                               If you've been dreaming of putting in a pool or building an addition to your home, put your plans in motion with a CRCU home improvement loan. It's a great option if you don't have enough equity in your home or already have a Home Equity Loan and need additional funds! We make it easy to stay on track throughout your project. You find the contractor, and we write the checks. 
Fixed rates with 5-, 10-, 15-, and 20-year terms for affordability and flexibility

Borrow up to 95% loan to value for your home improvement project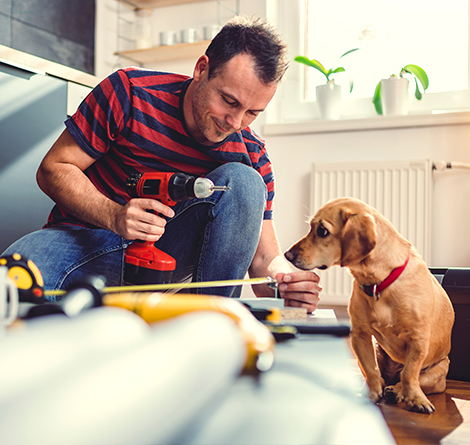 Major home renovations? A Home Equity Loan Might be Right for You.  
Unlock the potential of your home's equity with a Home Equity Loan. This lending solution allows you to access funds that you can use for various expenses, such as financing major home renovations like a kitchen remodel, bathroom upgrade, or adding a new bedroom. Not only that, but the interest you pay on this loan may also be tax-deductible. Speak with your tax advisor to learn more about the potential tax benefits.
What to know
---
Flexible, local draws

A fully executed contract with builder's draw schedule is required

Estimate the amount you can borrow by completing the following worksheet:
Appraisal value of your home:               $ _______________
Multiply by 95%                                        X.95%
Maximum Lien Amount                            =_______________
Subtract balance of existing liens            -_______________
Estimated amount available to borrow =_______________
The appraisal value does take into consideration the work being performed

Wind/hail insurance required for Galveston, Brazoria and Chambers Counties

 
Items you'll need before you start your application
---
Last 30 days paystubs

Last two years W2's/1099's

Last two years IRS Tax Returns

Government-issued ID

Last 2 months bank statements

Copy of most recent mortgage statement

Copy of home insurance declaration page

Your current construction contract, if available
Start your application online!
---
It's easy to apply for your CRCU loan with our online application. If you have questions or would like to schedule an appointment please email Mortgages@crcu.org or call 281.420.3746.
Our loans typically close in 25 to 45 days.
Your annual percentage rate will be dependent upon total loan amount, term chosen, and individual financial circumstances.  Rates based on an evaluation of each member's credit history, loan-to-value (LTV), loan amount, loan purpose, and other factors; so your rate and terms may differ. All loans are subject to credit approval. Under certain circumstances an escrow account for taxes and insurance may be required. Does not include taxes and insurance. Some restrictions may apply. CRCU membership required. Individual loan circumstances vary and actual funding may exceed stated timeframe. Check with your tax advisor for details.*Investment properties and Jumbo Mortgage Loans are not eligible for the Best Rate Guarantee. Real estate promotions cannot be combined with any other offer. Certain other credit and income qualifications may apply. A competitors Mortgage Loan Estimate dated within three business days of CRCU's mortgage loan offer is required in order to qualify for Best Rate Guarantee. CRCU reserves the right to cancel or change these promotions at any time. Please contact a representative for more details. CRCU membership required
Frequently Asked Questions
How are the funds disbursed to our contractor?
Monies are disbursed in draws to the contractor with borrower approval and after verification the work is complete.
Does anyone inspect the work?
An inspector will go on site to verify the work is complete.