What to Expect with Round Two of Stimulus Checks
---
What to Expect with Round Two of Stimulus Checks
---
The IRS will be sending out the second round of stimulus checks within the next two weeks. Paper checks may be received as late as January 15, 2021. Currently, this is all the information we have. The IRS and US Treasury could begin to send the second stimulus payments to those who qualify a week after the bill was signed -- first through direct deposit, followed by paper checks. For more up to date information please visit: https://www.irs.gov/coronavirus/get-my-payment
Please be aware of the possibility of online banking not being able to withstand the high number of members attempting to log in simultaneously to check for their deposit. While we will prepare our technology provider, we wanted to ask for patience as we work through this round. In addition, we expect phone calls to increase leading to a longer hold time, but we assure you we will be working diligently to answer your calls.
Please keep in mind that this process is driven by the IRS and not Community Resource Credit Union. While we will do our best to answer all your questions, we once again ask for your patience.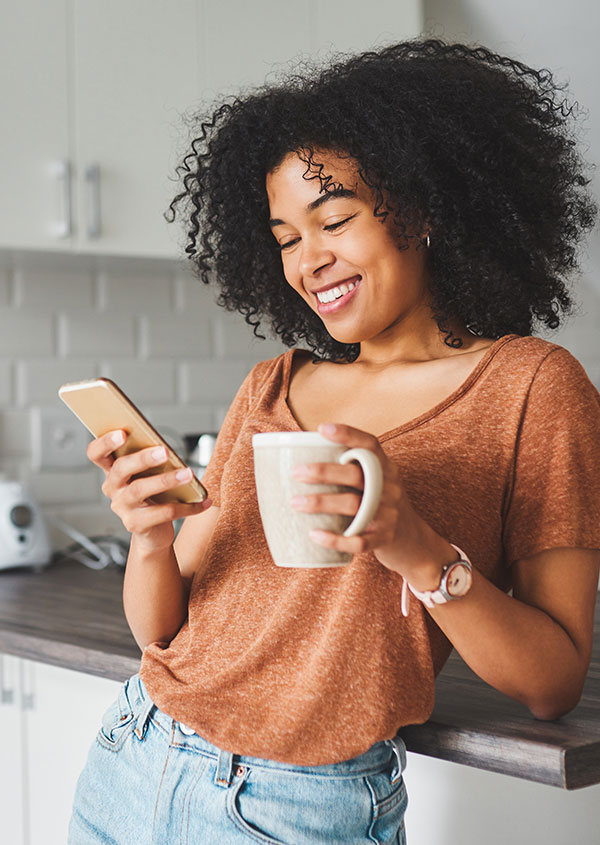 Stay on top of your accounts with alerts and notifications
Monitor your accounts 24/7 by creating customized text and email alerts. These texts and/or alerts can be customized based on balances, approvals, transactions and more. You can also have alerts sent to multiple phone numbers and email addresses. Text Alerts is a free service for our members.
(*carrier data and message rates may apply)
When an automatic payment has been withdrawn from your account

When deposits have cleared

About account balances (above or below a certain amount)

When your loan payments are coming due
FAQs
HOW MUCH WILL THE CHECKS BE?
The checks will be roughly half the amount of those approved in the March CARES act. Like in March, the new checks are based on 2019 adjusted gross income, but this time will pay $600 per qualifying adult for those earning $75,000 or less and drop incrementally from there with a cap of $87,000. In addition, if you have children, you'll receive an additional $600 for each dependent child. For married couples filing jointly, a stimulus check of $1,200 will be sent for couples earning $150,000 or less.1
The exact timing on when they arrive remains to be seen, but the stimulus bill puts a deadline on sending a second-round payments by January 15, 2021. The IRS can't send any second stimulus checks after this date. If a payment isn't sent you by then, you'll have to claim the amount owed to you as a "recovery rebate" credit on your 2020 federal income tax return by April 15, 2021.
If the IRS already has your bank account information—either from a recent tax payment that you made or from a tax refund sent to you—then expect your second stimulus check faster. That's because the IRS will be able to directly deposit the payment into your bank account. The IRS can also make a second stimulus payment to a Direct Express debit card account, a U.S. Debit Card account, or other Treasury-sponsored account. Otherwise, expect to get a paper check in the mail.2  
Visit https://www.irs.gov/newsroom/treasury-and-irs-begin-delivering-second-round-of-economic-impact-payments-to-millions-of-americans for more information & FAQs. 
2. As of December 28, 2020, the IRS has until January 15, 2021 to send your payment. If payment is sent via check or debit card through the US postal service, you may not receive your stimulus funds until after this date.
Why IS JAN. 15, 2021 AN IMPORTANT DATE TO KNOW?
HOW DO I FIND OUT IF THE IRS IS SENDING ME A PAYMENT?
People can check the status of both their first and second payments by using the Get My Payment tool, available in English and Spanish only on IRS.gov. The tool is being updated with new information, and the IRS anticipates the tool will be available again in a few days for taxpayers.
Have Questions for CRCU?
---
If you have any questions about direct deposit and alerts or notifications, please contact us (800) 238-3228 or in person at your neighborhood CRCU branch!