Promotions
---
Summer/Fall 2020
Get More Smiles Per Gallon...
with a CRCU Auto Loan or Auto Loan Refi!

---
Hit the road this season with some of the best rates around!
Rates as low as 1.99% APR1
Get up to 120% financing!2

No Payments for 90 Days!3
Get $100 cashback when you refinance!4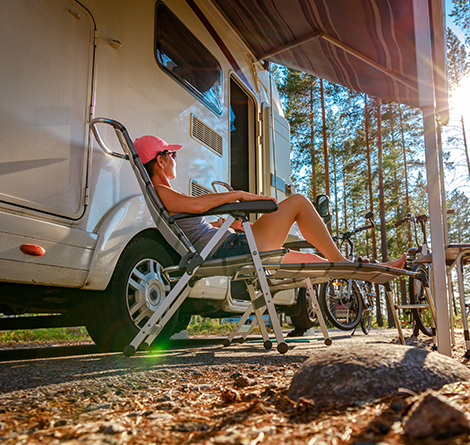 The Proper Way to Social Distance
Do you have a spirit for adventure? Our rates are low and our terms are flexible, so you're bound to get a monthly payment you can afford.
The same holds true for refinance loans. If you financed a specialty vehicle somewhere else, let us know. We'll just help you secure a lower rate, better terms or more affordable payment. 
Campers

Travel trailers

Boats

RVs

CRCU's Preferred Auto Dealers
---
Member Auto Center is your source for all of your auto buying needs. With our easy search and expert assistance, you can research new autos, search pre-owned inventory, get free price quotes, discover your trade-in value and so much more! Take the guesswork out of auto shopping. Our preferred dealers are ready and waiting to help you find your next new or pre-owned car!
Visiting a dealership can be overwhelming. With CRCU and Auto Center, we make the car buying experience safe and easy.
Search new and pre-owned vehicles

Calculate your monthly payment

Submit for a no obligation price quote

Get a listing of all participating dealers

Get an auto check vehicle Report


 
Before purchasing your next auto, be sure to follow these 3 easy steps: 
Visit crcu.memberautocenter.com to research vehicles and get pre-approved for your auto before you ever get to the showroom floor.

Find a Preferred Dealership and ask for the Credit Union Representative by his or her name.

Contact 832-912-2182 for auto buying assistance.
Need Assistance?
For personal help with your loan application, drop by your neighborhood CRCU branch or give us a call at (800) 238-3228.
1APR = Annual Percentage Rate. Certain terms, conditions, and or discounts apply to rates listed. Rates current as of 8/17/20, and are subject to change based on market conditions and borrower eligibility. A $25,000 loan with a 60-month term at 2.74% APR equals a $446.79 monthly payment. Your monthly payment includes principal and interest and may be higher or lower depending on your loan amount, APR and term. Other rates and terms available. May not be combined with other offers. All loans and rates are subject to approval and some restrictions may apply. Subject to mileage and vehicle age limitations. A vehicle is considered new when the model is current calendar year, next year so long as the mileage does not exceed 7,500 miles. 2CRCU finances up to 120% of MSRP (new vehicles) or the NADA Retail value (used vehicles). Maximum loan to value (LTV) is 120% including tax, license and fees. Maximum LTV is subject to approval and certain restrictions may apply. Not available to refinance an existing CRCU auto loan. The minimum approved loan amount is $500.00. 3Payment will not be required during the deferred period for the first 90 days. Interest will accrue during the deferment period. 4$100 cashback offer valid for auto refinances only. New or used purchase loans do not qualify. $100 cashback deposited into a CRCU checking or savings account at time of loan closing. Cashback may constitute taxable income to you. CRCU may issue an IRS form 1099 to you. CRCU Membership required. Contact us for details. Offer subject to change or cancellation without notice.