Preparing For Hurricane Season
---
Preparing for Hurricane Season
---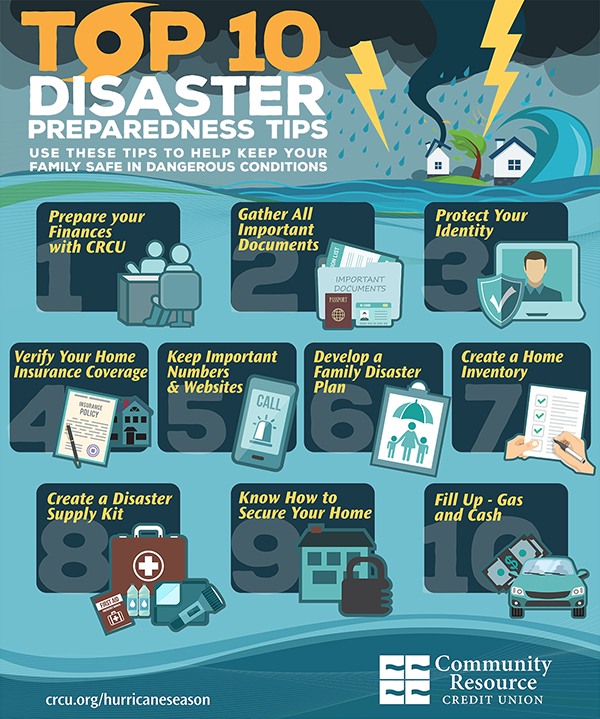 We are always hoping for a hurricane-free season, but, we want to help our members to be prepared if a storm rolls our way. Here are some tips to help prevent further stress in the event of a hurricane.
There are precautions and safety measures you can take to protect your property from storms, but where do you begin? Community Resource Credit Union can help you prepare! We'll walk you through the entire process for keeping you, your loved ones, your home and your property safe when the wild storms blow in!
1.) Check your insurance coverage
Before you take any practical steps toward protecting your home and property from impending storms, review your homeowner's insurance policy. Verify that damage from flooding and strong winds is adequately covered. If your policy seems to be insufficient, now is a good time to consider upgrading to a plan that will provide more extensive coverage. If you are in the market for a new insurance policy check out CRCU Insurance Services, Inc.
2.) Protect your property against flooding
Perhaps the most devastating damage caused by hurricanes is the extensive flooding from high storm surges. Before the start of the storm season, spend an afternoon cleaning out your gutters and downspouts, because you want them to be in optimal working order. It's all about thinking ahead; an easy fix-up today can save you thousands of dollars in water damage tomorrow.
3.) Inspect your property's structure
Before storm season hits, give your property an extensive once-over. You'll want to ensure there are no structural issues that may be worsened by the strong winds and waters of a hurricane. Shaky roofs, loose shingles and weakened external walls can all give storm winds entry to your home, where they can do substantial damage.
Check your windows too, sealing up leaks and making sure the latches are secure. If your area is usually hit by strong storms, you may want to consider boarding up your windows in case of a hurricane, especially those facing the direction of the fiercest expected winds. You can do the same for your external doors.
4.) Review your evacuation route
Weather reports will usually come in with sufficient time to evacuate your hometown should it become necessary. However, it's always a good idea to plan an evacuation route in advance and make plans for where you'd stay in case of a storm. Make sure you have clear directions for your destination and verify that the relative or friend who will serve as your host will be OK with some spur-of-the-moment guests.
Instead of waiting to hit the stores when a hurricane is on the way and the shelves are emptying faster than you can select your items, prepare your storm stock now. Designate an area in your garage or basement for storm supplies and keep it stocked with bottled water, flashlights, extra batteries, a first-aid kit and non-perishable food items, such as canned goods and condensed milk. FEMA recommends stocking one gallon of water per person for three days, and nine non-perishable meals per person.
It's also a good idea to purchase a crank-powered or battery-operated radio so you aren't cut off from the outside world. You can even find one with a cellphone charging port which can really come in handy in case of a power outage.
6.) Take last-minute precautions
You may have prepared for those hurricanes and taken every necessary precaution, but when a hurricane warning or watch is in effect, it's a smart idea to do yet another check on your property. Here are some last-minute measures you can take in the days before a storm is set to hit your area:
Using bungee cords or something similar, secure a tarp or large garbage bag over external air conditioning units to prevent damage by airborne projectiles.

Walk through your entire external property, checking for scattered debris and loose-hanging branches. Remove any loose items you find, as they can turn into projectiles during a storm, causing extensive damage to your home and property.

Patch any visible foundation cracks around your home.

If your home has a sump pump, clear any debris and check that it's operating properly to prevent clogging.

Double-check to ensure your gutters are completely cleared.

Consider sealing and boarding your windows and doors.
Hurricanes can cause extensive damage and demand careful preparation on your part.
Here at CRCU we want to help. Call, click, or stop by today to ask about our fantastic rates on loans for flood-related expenses. We'll help you stay safe and dry this hurricane season!