Member Auto Center
---
2023 Season's best car sale
2023 Season's Best Car Sale
---
We have partnered with Member Auto Center for 2023 Season's Best Car Sale! Enter to win a $500 cash prize**, locate a preferred dealer, or research, browse and locate a new or pre-owned vehicle
.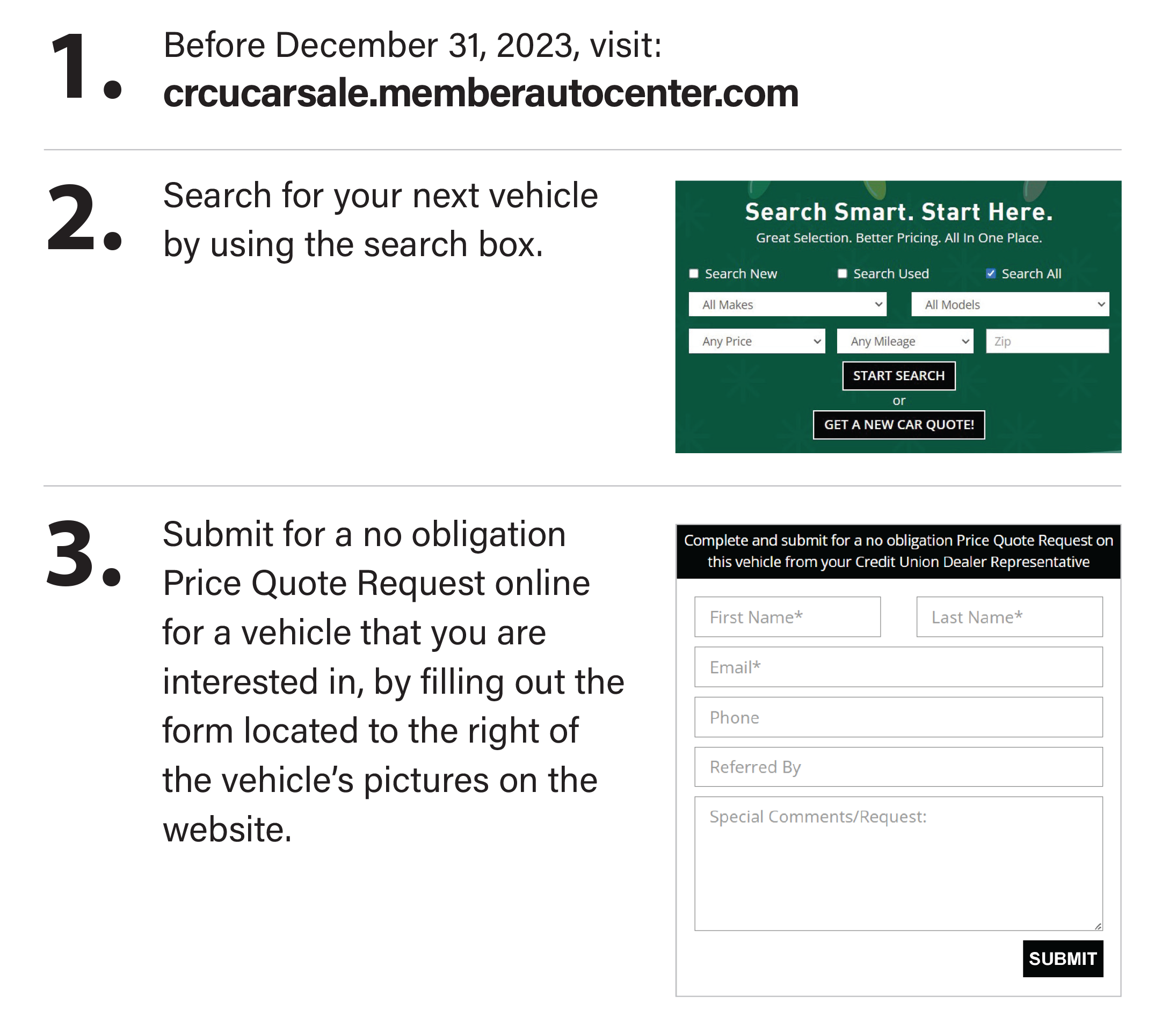 Offers available with the participating dealers below. 
BMW
BMW of West Houston
20822 Katy Freeway, Katy, TX 77449
Tommy Luk: (703) 888-7950
Camilo Lopez: (713) 899-6371
BUICK GMC 
---
 Beck & Masten Buick GMC North
11300 Farm to Market 1960 Rd W, Houston, TX 77065
Robert Wolf: (832) 309-6779
Mike Sharaf: (832) 878-0992
Beck & Masten Buick GMC South
12820 Gulf Fwy, Houston, TX 77034
Anthony Morelli: (281) 746-1017
Roylin Wolf: (832) 545-2526
14101 North Freeway, Houston, TX 77090
Fred Price: (281) 877-1006
CHEVROLET
---
Classic Elite Chevrolet Highway 6
8100 South Texas Highway 6, Houston, TX 77083
John Alridge: (832) 232-2449
Classic Elite Chevrolet Sugar Land 
13115 Southwest Freeway, Sugar Land, TX 77478
Bobby Russell: (281) 263-1329
CHRYSLER DODGE JEEP
---
Demontrond Chrysler Dodge Jeep Ram
888 I-45 South, Conroe, TX 77304
Robert Stanley: (281) 443-2500
Texan Chrysler Dodge Jeep Ram 
18555 Eastex Freeway, Humble, TX 77338
Ashlyn Santiago: (281) 706-8810
FORD
---
Cook Ford
2600 Palmer Hwy. Texas City, TX 77590
Lauren Moore: (409) 948-2541
Planet Ford 
20403 I-45, Spring, TX 77388
Clennon Preyear: (832) 403-2668
HONDA
---
Honda of Clear Lake
2205 Gulf Fwy S, League City, TX 77573
HYUNDAI
---
Baytown Hyundai
4343 I-10 East, Baytown, TX 77521
INFINITI
---
Southwest Infiniti
10495 Southwest Fwy, Houston, TX 77074
New
Andre Scott: (832) 340-6841
Pre-Owned 
Milli Martinez: (832) 964-7792
KIA
---
Beck & Masten Kia
25503 Tomball Pkwy, Tomball, TX 77377
James Carter: (281) 318-9137
Demontrond Kia
14101 North Freeway, Houston, TX 77090
Martin Carbajal: (281) 872-7200
LEXUS
Sterling McCall Lexus 
10025 Southwest Fwy, Houston, TX 77074
New
David Capin: (713) 995-2600
Pre-Owned
Chet Sourn: (713) 995-2437
MAZDA
Demontrond Mazda
20101 Gulf Freeway, Webster TX 77598
Jorge Galvan: (281) 823-5000
Jason Ramsland: (832) 215-6890
MERCEDES-BENZ
---
Mercedes-Benz of Houston North 
17510 North Fwy, Houston, TX 77090
Gordon Barnes: (281) 233-6087
NISSAN
---
Baytown Nissan
5445 I-10 East, Baytown, TX 77521
John Addison: (281) 394-1995
SUBARU
---
Gillman Subaru Southwest
10565 W Sam Houston Pkwy S, Houston, TX 77099
Kitt Kamya: (713) 776-6369
TOYOTA 
Don McGill Toyota
11800 Katy Fwy, Houston, TX 77079
Ulysses Price: (281) 704-2050
VOLKSWAGEN
Demontrond Volkswagen
888 I-45 South, Conroe, TX 77304
Charles Willis: (281) 819-1174
14101 North Freeway, Houston, TX 77090
Eric Raymond: (281) 870-7200
VOLVO
Demontrond Volvo
14101 North Freeway, Houston, TX 77090
Jeff Hika: (281) 877-1005
*APR = Annual Percentage Rate. Certain terms, conditions, and or discounts apply to rates listed. Rates current as of 09/13/2023, and are subject to change based on market conditions and borrower eligibility. A $30,000 loan with a 48-month term at 5.49% APR equals a $752.68 monthly payment. Your monthly payment includes principal and interest and may be higher or lower depending on your loan amount, APR and term. Payment also includes monthly premium for Payment Protection which includes Credit Life and Disability Insurance. Credit Life and Disability Insurance is not required. Other rates and terms available. May not be combined with other offers. All loans and rates are subject to approval and some restrictions may apply. All loans closed directly at the dealership must be pre-approved at the credit union and closed at the pre-approved rate to qualify for the rate discount. Subject to mileage and vehicle age limitations. A vehicle is considered new when the model is current calendar year, next year so long as the mileage does not exceed 7,500 miles. CRCU finances up to 120% of MSRP (new vehicles) or the NADA Retail value (used vehicles). Maximum loan to value (LTV) is 120% including tax, license and fees. Maximum LTV is subject to approval and certain restrictions may apply. Not available to refinance an existing CRCU auto loan. The minimum approved loan amount is $500.00. View rates page to view all disclosure & rates. CRCU Membership required
**Need not apply for a loan to enter. No purchase necessary. You do not have to be a member of a credit union to enter. Limit one entry per person. All entries will be accepted. To enter, visit the website above, find a vehicle you are interested in, submit the form for a no obligation price quote request. All entries must be submitted no later than December 31, 2023 by 11:59 p.m. CST. Contest ends December 31, 2023 at 11:59 p.m. CST. Only two winners will be chosen by random drawing on January 9, 2024 to win $500 each. Winners will be notified by a Credit Union Representative. This contest does not include a manufacturer's rebate or discount available to the public. Employees of CU Alliance, LLC and its subsidiaries are not eligible. Must be 18 years or older. No cash value. Odds of winning depend on the total number of entries received. Restrictions may apply. Void where prohibited and subject to federal, state and local laws. For more information visit the website on the banner or call 832-912-2182.